Ask a Dietitian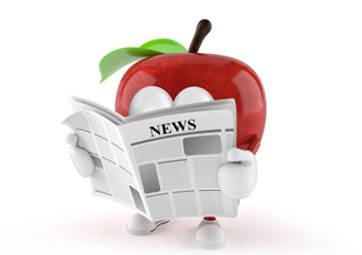 "Diana, just a quick heads up to let you know we are still using your cookbook and the guys will often be heard saying what would Diana say about this or that....really good feed back... I made your potato salad and the oriental coleslaw on Sat. for a family luncheon and had rave reviews so thanks again."
Maeghan Henke
BC Hydro
February 21st, 2018
Instead of the typical taco toppings, here's a take on a popular Californian taco where crunchy slaw is used instead of grated cheese. For a more authentic taste, the chicken is grilled, but you can also season the chicken and simply stir fry. Salsa and guacamole are delicious on the side.
¼ cup (50 mL) mayonnaise
¼ cup (50 mL) plain yogurt
1 tbsp (15 mL) lime juice
1 garlic clove, minced
½ tsp (2 mL) salt
Pinch of cayenne pepper
1 can (14 oz/398 mL) peach halves, in fruit juice or light syrup
2 cups (500 mL) coleslaw or broccoli slaw mix
¼ cup (50 mL) chopped coriander
1 lb (500 g) skinless boneless chicken cutlets, 3 to 4
2 tsp (10 mL) TexMex seasoning*
8 large taco shells or small flour tortillas
Hot sauce (optional
In a bowl, stir mayo with yogurt, lime juice, garlic, salt and cayenne. Lightly oil grill and preheat barbecue to medium-high.
Drain peaches well and chop. Place in a bowl along with slaw, coriander and mayo mixture. Stir.
Sprinkle both sides of chicken with TexMex seasoning and a pinch of salt if there isn't any in the seasoning mix. Set on barbecue and grill turning halfway through until cooked, 4 to 6 minutes in total. Thinly slice.
To assemble, warm shells or tortillas. Toss chicken with slaw and serve with hot sauce if using.
Makes 8 tacos.
Tip: If you don't have Tex Mex seasoning, you can make your own:
2 tablespoons dried parsley flakes
4 teaspoons dried minced onion
4 teaspoons chili powder
3 teaspoons dried minced chives
3 teaspoons ground cumin
Mix all spices and store in an airtight container.