Ask a Dietitian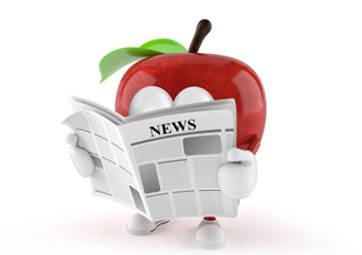 "Diana, just a quick heads up to let you know we are still using your cookbook and the guys will often be heard saying what would Diana say about this or that....really good feed back... I made your potato salad and the oriental coleslaw on Sat. for a family luncheon and had rave reviews so thanks again."
Maeghan Henke
BC Hydro
October 27th, 2019
Kids have a small stomach capacity. Most kids will need to eat at least four to six times a day or more. Nutritious snacks are as important as healthy meals.
Children thrive on routine. Offering snacks at regular times during the day help keep kids well fueled, blood sugars stable and prevent meltdowns. If also provides a sense of security for kids knowing they won't go hungry and therefore don't need to stuff themselves at meals for fear of starving later.
Involve kids in preparation of snack. Teaching cooking skills leads to a lifetime of healthy eating.
Offer after school snacks as soon as kids get home. The farther apart from dinner the better so they are hungry again for the next meal. Kids are often quite hungry after school, so this is a great time to get vegetables and fruit in as well as try new foods.
Remember the feeding relationship. It is our role as parents and caregivers to offer nutritious foods and regular intervals in a format they can handle. It is up to the children to decide what and how much they will eat.
Snacks are an important source of nutrients and shouldn't be full of empty calories. They should be low in sugar and made with whole ingredients. Snacks containing protein tend to last longer and fibre helps promoted regularity and satiety. At snack time offer water to drink for hydration.
Here are a few delicious snack ideas using California strawberries which are "in season" when our local strawberries are not. Strawberries are an excellent source of vitamin C, providing 110% DV in 1 cup of berries. They are also a source of potassium, antioxidants and fibre.
Check out www.californiastrawberries.comfor delicious recipes such as:
Strawberry Chia Pudding
Strawberry Almond Butter Snackwich
Strawberry Grilled Cheese
Other Great Snack Ideas for Kids:
Fruit Parfait
Strawberry and Monterey Jack Quesadilla
Apple slices with peanut butter dunked in cheerios
Appetizer platter with cheese, crackers, cucumber rounds, cherry tomatoes, edamame, hard boiled egg, strawberries and grapes
Strawberry Mango Greek yogurt smoothie