Ask a Dietitian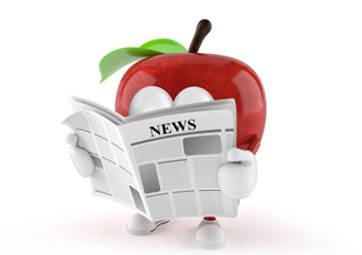 "Diana, just a quick heads up to let you know we are still using your cookbook and the guys will often be heard saying what would Diana say about this or that....really good feed back... I made your potato salad and the oriental coleslaw on Sat. for a family luncheon and had rave reviews so thanks again."
Maeghan Henke
BC Hydro
April 4th, 2000
As seen on BCTV April 4/00
VIEWER NUTRITION QUESTIONS FROM APRIL 4, 2000 NOON NEWS HOUR

1) Gleneth from Coquiltam wants to include more flax in her diet. What method should she use?
Either ground flax seed or the oil would be beneficial to supply the essential fats. Flax supplies the same beneficial fats as can be found in fish and fish oils.
2) Kelly from Surrey wants to know about fruits and vegetables. If it tastes woody is it still good to eat?
A hard, woody fruit is likely not optimally ripened. It may not provide a lot of pleasure or nutrients. In fact, at this time of year, canned and frozen fruit can be more nutritious than under-ripe fresh fruit.
3) Ruth from Surrey is going through menopause and is having really bad hot flashes. She wants to know about what foods could help her and estrogen replacement therapy.
Your doctor and pharmacist will be good resources regarding estrogen medications. However, soy foods and many vegetables contain natural plant estrogens that may be beneficial. Ensure you drink lots of water to help control body temperature.
4) Starla from Williams Lake has a four-month-old son and is breastfeeding and needs to gain some weight.
Avoid constant grazing as this will speed metabolism and further the problem. Instead, try eating 3 meals per day containing one food from all four food groups, eat 2 substantial snacks/day containing at least 2 of the 4 food groups and include a calorie-containing beverage with all meals and snacks such as milk or juice in addition to water.
5) Gurdip from Vancouver wants to know what to do about high cholesterol.
Limit the less healthy fats in your diet like hydrogenated and saturated fats, but still emphasize the good fats like canola oil, olive oil, nuts, nut oils, fish and flax oil. Eat regularly, make the biggest portion of all meals vegetables and fruit and try to exercise more. Exercising at an intensity high enough to get hot and sweaty is required to break down fat in the body.
6) Sandra from Winfield has a daughter with digestive problems. Will cinnamon help?
As far as I know, there is not a lot of evidence for this. However, I don't think it would be harmful. Cayenne pepper is thought to stimulate metabolism and may be worth experimenting with in a person old enough to appreciate spicy food.
Watch for the Eating for Energy segment every Tuesday on BCTV's Noon News Hour!
Article written by Patricia Chuey and reprinted with permission