Ask a Dietitian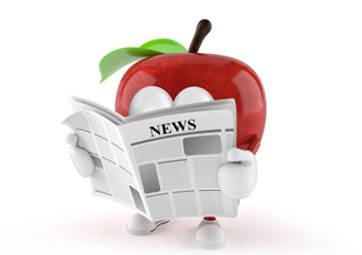 "Diana, just a quick heads up to let you know we are still using your cookbook and the guys will often be heard saying what would Diana say about this or that....really good feed back... I made your potato salad and the oriental coleslaw on Sat. for a family luncheon and had rave reviews so thanks again."
Maeghan Henke
BC Hydro
January 4th, 2000
As seen on BCTV January 04/00
VIEWER NUTRITION QUESTIONS FROM JANUARY 4, 2000 NOON NEWS HOUR

1) Jason from Surrey wants to know about the nutritional value of chow mien?
Chow mien noodles, if made from a dried version, can be high in fat. Also, depending how much oil is added in the preparation, the fat content can be affected. Use little oil if preparing noodles yourself or ask questions about preparation method when dining out.
2) Dale from Barrier has one big meal a day and he wants to know if that is healthy.
If you are in good health with a high energy level, normal blood pressure, weight and cholesterol and you sleep well, you may not need to change anything. Current thinking however, is that small frequent meals and snacks throughout the day promote the best digestion and prevention of various health problems.
3) Kate from Alert Bay is seven months pregnant and has a cold. Kate would like to know what she should do to get better.
Don't experiment with any herbal remedies while pregnant unless you have been advised by a trustworthy health professional. Try to get at least 8-9 hours of consistent sleep to help boost your immune system. Short cat naps won't have the same effect. Emphasize fruits and vegetables, orange juice and fluids to crank up your vitamin C intake and stay well hydrated.
4) Gwen from Cranbrook wants to know how she can get Patricia's book.
Available through www.eatingforenergy.com, call our office at (604)739-3290 or contact most major bookstores such as Chapters and Coles.
5) Marissa from Vancouver wants to know if low carbohydrate diets are safe.
Don't avoid carbs altogether when trying to lose weight, however, definitely cut them back if you feel you are an addict or eat too many servings. We only need about 5 servings a day of high quality, whole grains. One serving is a mere ½ cup, 4 oz portion – roughly the size of a tennis ball.
6) Christine from Kamloops is 18-years old and gains and loses weight a lot.
To stabilize your weight and energy, try to establish a consistent exercise routine of 3-4 workouts a week. Keep your water intake stable. That is, don't drink 8 glasses one day, 4 the next, 2 the next, etc. Avoid fad diets and quick weight loss gimmicks.
7) Susanna from Mission has a thyroid problem. She wants to know what she should do with her diet to help the problem.
There aren't really specific foods to avoid or emphasize in this case. More important is to stabilize your eating pattern by eating every 3-4 hours throughout the day. As for all of us, fruits and vegetables should form the basis of all of your meals.
Watch for the Eating for Energy segment every Tuesday on BCTV's Noon News Hour!
Article written by Patricia Chuey and reprinted with permission