Ask a Dietitian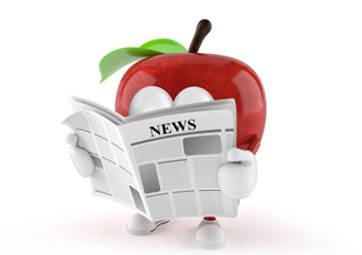 "Diana, just a quick heads up to let you know we are still using your cookbook and the guys will often be heard saying what would Diana say about this or that....really good feed back... I made your potato salad and the oriental coleslaw on Sat. for a family luncheon and had rave reviews so thanks again."
Maeghan Henke
BC Hydro
February 21st, 2018
This is elegant enough for entertaining but fast enough for a midweek dinner. Individual fillets work well too and they'll take about 5 minutes less roasting time. Just roast the peach mixture a little bit earlier so everything is ready at once.
1¼ to 1½ lb (675 to 750 g) piece wild salmon, halibut or black cod, at least 1-inch (2.5 cm) thick or 4 fillets
Finely grated peel of 1 lemon
½ tsp (2 mL) each paprika (preferably smoked), dried thyme leaves and granulated sugar
¼ tsp (1 mL) each salt and black pepper
1 can (14 oz/398 mL) California Cling peach halves, in fruit juice or light syrup
1 cup (250 mL) cherry tomatoes
2 green onions, cut into 1-inch (2.5 cm) pieces
1 garlic clove, minced
2 tsp (10 mL) olive oil
Pinch of salt
3 tbsp (45 mL) coarsely chopped fresh basil or mint
Preheat oven to 400 F (200 C). Line a baking sheet with foil for easier clean up. Place fish at one end of baking sheet. Stir lemon peel with seasoning and sugar. Sprinkle over fish and rub in. Roast fish 10 minutes.
Drain peaches well and cut into quarters. Place in a bowl along with tomatoes, green onions and garlic. Add oil and salt. Stir.
After 10 minutes of roasting fish, place peach mixture at other end of pan. Continue to roast 8 to 10 more minutes until fish flakes easily when tested with a fork. Toss peach mixture with basil. Cut fish into serving-size pieces. Serve peach sauce spooned over top.
Serves 4 to 6.
Recipe and photo source: California Cling Peach Board
For these and more delicious recipes using canned California Cling Peaches go to www.calclingpeach.ca