Ask a Dietitian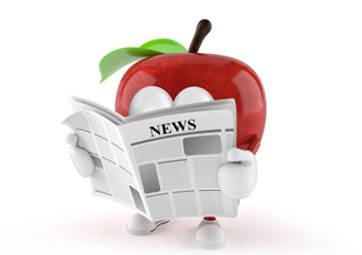 "Diana, just a quick heads up to let you know we are still using your cookbook and the guys will often be heard saying what would Diana say about this or that....really good feed back... I made your potato salad and the oriental coleslaw on Sat. for a family luncheon and had rave reviews so thanks again."
Maeghan Henke
BC Hydro
June 21st, 2017
A twist on a favourite, this vegetarian Pad Thai will have your mouth watering. Zucchini noodles (or zoodles) replace the traditional rice noodles for a meal that's loaded with nutrients and protein power. More great recipes can be found at www.peanutbureau.ca.
Prep time: 30 minutes Cooking time: 5 minutes Makes 4 servings
Sauce
1⁄3 cup (75 mL) 3 tbsp (45 mL) 2 tbsp (30 mL)
2 tsp (10 mL) 1 tsp (5 mL)
2 tsp (10 mL)
Directions:
vegetable broth
ketchup
each peanut butter and lime juice
finely grated ginger
soy sauce
hot Chinese chili garlic sauce, to taste
cornstarch
Pad Thai
350 g block
1⁄2 tsp (2 mL)
1
2 tbsp (30 mL) 1
2 cloves
3 cups (750 mL) 1⁄2
1⁄2 cup (125 mL)
1⁄2 cup (125 mL) 1⁄2 cup (125 mL) 2 tbsp (30 mL)
extra-firm tofu
hot pepper sauce
small zucchini
oil, preferably peanut
shallot, thinly sliced
garlic, minced
thinly shredded Nappa cabbage red pepper, thinly sliced coarsely grated carrot,
about 1 small
thinly sliced snow peas
bean sprouts
chopped peanuts
Place tofu on a paper towel-lined plate. Place a few more paper towels on top of tofu, followed by another plate. Place something heavy like a large can on top to weigh down tofu and drain the liquid, for about 30 minutes.
Meanwhile, whisk broth with ketchup, peanut butter, lime juice, ginger, soy sauce and chili garlic sauce. Whisk in cornstarch. Set aside.
Pat tofu dry, then cut into 1⁄2-inch (1-cm) pieces. Toss with hot pepper sauce. Using a vegetable peeler, "peel" zucchini into strips. Turn zucchini occasionally so that strips are even. Alternatively, a spiralizer can be used to create zucchini noodles.
Heat 1 tbsp (15 mL) oil in a large non-stick frying pan over medium-high heat. Add tofu and stir fry until golden on all sides, about 3 minutes. Remove from pan and set aside. Add remaining oil to pan. Add shallot and garlic, and stir fry for 30 seconds. Add cabbage, red pepper, carrot, snow peas and zucchini noodles. Stir fry for 1 to 2 minutes, just until vegetables begin to soften. Add sauce and return tofu to pan. Continue to stir fry until vegetables are coated and tofu is hot, 1 to 2 minutes. Stir in bean sprouts. Serve sprinkled with peanuts.
Per serving (1⁄4 recipe): 390 calories, 18 g fat (3 g saturated fat, 0 g trans fat), 0 mg cholesterol, 15 g protein, 20 g carbohydrates, 5 g fibre, 8 g sugar, 340 mg sodium