Ask a Dietitian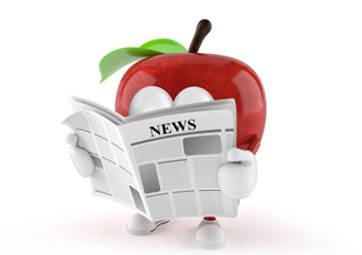 "Diana, just a quick heads up to let you know we are still using your cookbook and the guys will often be heard saying what would Diana say about this or that....really good feed back... I made your potato salad and the oriental coleslaw on Sat. for a family luncheon and had rave reviews so thanks again."
Maeghan Henke
BC Hydro
September 16th, 2009
Carrots are a great source of beta carotene (vitamin A) which gives them their rich orange colour.  They also contain carbohydrates and are considered a high glycemic food as their carbohydrates are converted into glucose in the blood quite quickly.  1 medium carrot is considered a vegetable serving and contains only 35 calories.
There are many different varieties of carrots that vary in both colour and shape.   There are purple, yellow, white and the most common orange carrot.  Generally carrots are sold according to size, baby carrots and mature carrots.  Carrots are characterized by a firm, smooth exterior and crunchy texture.
Buying and storing
Carrots are available all year round.  If you buy carrots with the tops on the tops should be bright green in colour.  It is a good idea to remove the carrot tops as soon as possible as they take nutrients and fluid from the carrots.  The carrots themselves should have a smooth exterior and not be limp or cracked.  Dark coloured crowns are signs of age.
Keep carrots away from ethylene producing fruit like apples or they will acquire a bitter flavour.  Carrots also tend to absorb strong odors so it is best to keep them in their bag until you need them in the vegetable crisper.  If they are stored in warm temperatures they may sprout, wilt or decay.  Some cracks in carrots can be due to freezing.
Preparing
Older carrots should be peeled and young carrots only need to be washed.  Carrots can be eaten raw, boiled, steamed, roasted, grilled, sautéed or baked.
Meal Ideas
For breakfast try adding grated carrot to an omelet or a carrot muffin.
At lunch have carrot soup or grated carrot in a sandwich
For dinner include carrots in stir fries, wraps, spaghetti sauce or stew.
Nutrition Facts
| | |
| --- | --- |
| 1 carrot | 7 " long |
| Energy | 35 kcal |
| Fat | 0g |
| Cholestrol | 0g |
| Sodium | 40 mg |
| Carbohydrates | 8g |
| Dietary fibre | 2g |
| Sugars | 5g |
| Protein | 1g |
| Vitamin A | 270% DV |
| Vitamin C | 10 % DV |
| Calcium | 2% DV |
| Iron | 0g |