Ask a Dietitian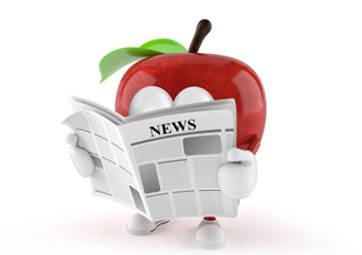 "Diana, just a quick heads up to let you know we are still using your cookbook and the guys will often be heard saying what would Diana say about this or that....really good feed back... I made your potato salad and the oriental coleslaw on Sat. for a family luncheon and had rave reviews so thanks again."
Maeghan Henke
BC Hydro
November 9th, 2015
JEWELLED PERSIAN RICE
Almost too pretty to eat, this rice dish can serve as the best accessory to buffet entertaining or as part of a vegetarian meal or snack. The aromatic basmati combined with the texture of the nuts, raisins and cranberries creates the ultimate culinary, sensory experience.
3 tbsp (45 mL) sugar
2 tbsp (30 mL) water
2 cups (500 mL) julienned or shredded carrots
zest strips of 2 oranges, julienned
2 cups (500 mL) USA basmati rice
1 tsp (5 mL) saffron
¼ cup (50 mL) vegetable broth
1 tbsp (15 mL) olive oil
1 small onion, diced
¼ tsp (1 mL) cardamom
¼ tsp (1 mL) cinnamon
1 tsp (5 mL) salt
½ cup (125 mL) dried cranberries
½cup (125 mL) green or golden raisins
½ cup (125 mL) toasted pistachios
½ cup (125 mL) toasted sliced almonds
In a large skillet over medium high heat, dissolve sugar with 2 tbsp water; stir in carrots and orange zest. Cook until liquid has evaporated; remove from heat and set aside.
Blanch rice in a large pot of boiling water for 6 – 7 minutes until tender with a hard centre. Strain and set aside. In a small bowl, stir together saffron and ¼ cup vegetable broth, set aside.
Heat oil in a large non-stick skillet over high heat, sauté onion, cardamom, cinnamon and salt until onions are softened. Stir in rice, cranberries and raisins. Reduce heat to low, drizzle saffron water over rice, do not stir and cover with a tight fitting lid. Let sit for approximately 10 minutes (or until tender) to finish cooking. Spoon onto a platter and top with carrot mix, pistachios and almonds. Toss together just before serving.
Makes 6 servings.
PER SERVING (1/6th recipe): 446 calories, 12 g fat, 1 g saturated fat, 0 mg cholesterol, 439 mg sodium, 80 g carbohydrates, 6 g fibre, 24 g sugars, 9 g protein. % RDI: 6% calcium, 10% iron, 35% vitamin A, 20% vitamin C.
Source: www.riceinfo.com