Ask a Dietitian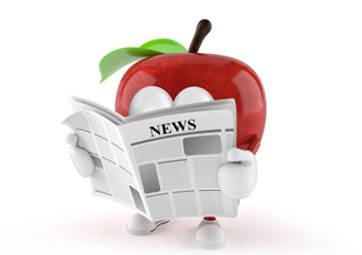 "Diana, just a quick heads up to let you know we are still using your cookbook and the guys will often be heard saying what would Diana say about this or that....really good feed back... I made your potato salad and the oriental coleslaw on Sat. for a family luncheon and had rave reviews so thanks again."
Maeghan Henke
BC Hydro
November 9th, 2015
ONE POT GREEK CHICKEN SPANAKORIZO
Brown rice is perfect for this one pot wonder as its longer cooking time is perfect for creating tender chicken pieces. Whether for a family meal or entertaining, this dish will have everyone saying OPA!
¼ cup (50 mL) lemon juice
2 tbsp (30 mL) lemon zest
2 tbsp (30 mL) olive oil
1/2 tsp (2 mL) each sea salt and pepper
4 bone-in, skin-on chicken breasts or thighs
1 small onion, diced
2 cloves garlic, minced
2 tbsp (30 mL) dried oregano
1 tbsp (15 mL) chili flakes
1 ½ cups (375 mL) USA long grain brown rice
1 ½ cups (375 mL) chicken broth
½ cup (125 mL) dry white wine
4 cups packed baby spinach
½ cup (125 mL) crumbled feta
¼ cup (50 mL) chopped parsley
In a bowl, combine 2 tbsp lemon juice, 1 tbsp zest, 1 tbsp oil, salt and pepper and chicken. Marinate in refrigerator for 30 minutes to 1 hour. Heat a large Dutch oven or deep skillet over medium high heat, sear chicken pieces on both sides to a golden brown; remove to plate. In same pot sauté onion, garlic, oregano and chili flakes with 1 tbsp oil until onions are softened, stir in rice. Add broth, wine and remaining lemon juice; bring to a boil. Stir in spinach, reduce heat to a low simmer and top with chicken pieces. Cover with a tight fitting lid and cook for 40-45 minutes undisturbed until chicken juices run clear and rice is tender.
Stir in 1 tbsp zest, feta, oregano and parsley just before serving.
Makes 4 servings.
PER SERVING (1/4 recipe): 671 calories, 19 g fat, 5 g saturated fat, 137 mg cholesterol, 757 mg sodium, 67 g carbohydrates, 8 g fibre, 3 g sugars, 54 g protein. % RDI: 20% calcium, 25% iron, 8% vitamin A, 35% vitamin C.
Source: www.riceinfo.com