Ask a Dietitian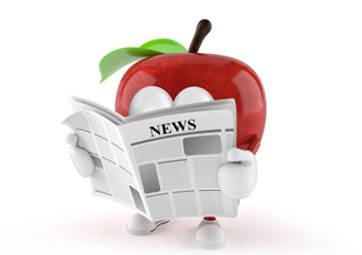 "Diana, just a quick heads up to let you know we are still using your cookbook and the guys will often be heard saying what would Diana say about this or that....really good feed back... I made your potato salad and the oriental coleslaw on Sat. for a family luncheon and had rave reviews so thanks again."
Maeghan Henke
BC Hydro
February 22nd, 2017
Breakfast Parfait (serves 4)
Ingredients:
4 mason jars
500g Greek Vanilla Olympic yogurt
375 ml granola
4 cups fresh fruit salad (strawberries, raspberries, blueberries, kiwi, banana, mango)
Method:
Spoon ½ cup fruit salad into bottom of each mason jar
Top with ¼ cup yogurt and ¼ cup Granola
Repeat once more with ½ c fruit salad, ¼ c yogurt and 2 tbsp granola.
Tzatziki (makes 2.5 cups)
Ingredients:
500g Plain Greek Olympic yogurt
1 English cucumber or long seedless cucumber
2-3 cloves garlic
1/4c Extra virgin olive oil
1-2 Tbsp. red wine vinegar
1 Tbsp. fresh dill (optional)
Salt and pepper to taste
Garnish with 3 Kalamata olives
Serve with pita bread
Method:
Peel and crush garlic cloves and add to Greek yogurt (let sit)
Cut cucumber lengthwise and remove seeds
Grate cucumber on large grate
Place grated cucumber in cheese cloth and squeeze out liquid (discard juice)
Add cucumber, olive oil, red wine vinegar and dill (optional) to Greek yogurt
Season with salt and pepper
Garnish with olives and drizzle of olive oil
Serve with pita wedges for dipping
Greek yogurt Dip for Fresh Fruit Kebobs (makes 1 cup dip)
1 cup Greek Vanilla Olympic yogurt
2 tsp lemon juice
1 tsp honey
½ tsp vanilla extract
4 skewers
2 cups cut fruit: strawberries, pineapple, melon, grapes, cantaloupe
Method:
In small bowl combine yogurt, lemon juice, honey and vanilla extract
Cut fruit into chunks and thread onto skewers
Dark Chocolate Yogurt Dip for fresh fruit (makes 1/2c dip)
½ c Greek Plain Olympic Yogurt
2 Tbsp. cocoa powder
3 Tbsp. brown sugar
½ tsp cinnamon
¼ tsp chili powder or pinch of cayenne
1 cup strawberries, 1 cup fresh raspberries, 1 banana cut into chunks
Method:
Combine green yogurt, cocoa, brown sugar, cinnamon and chilli powder in small bowl.
Serve with plate of fresh berries and banana for dipping