Ask a Dietitian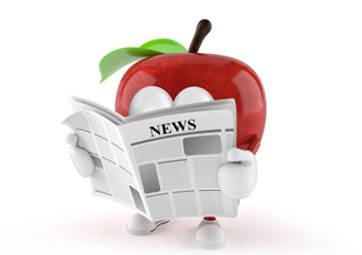 "Diana, just a quick heads up to let you know we are still using your cookbook and the guys will often be heard saying what would Diana say about this or that....really good feed back... I made your potato salad and the oriental coleslaw on Sat. for a family luncheon and had rave reviews so thanks again."
Maeghan Henke
BC Hydro
October 4th, 2016
Drum up a delicious dinner in less than an hour! Drumsticks, a kid-favourite, get sticky and saucy and pair perfectly with a fragrant, colourful side of basmati rice.
Prep Time: 15 minutes
Cook Time: 30 minutes
¼ cup (50 mL)             mango chutney or apricot jam
2 tbsp (30 mL)              each prepared yellow mustard and honey
1 tbsp (15 mL)               lemon juice
2 tsp (10 mL)                mild Indian curry paste or powder
12                                     chicken drumsticks (skin removed if preferred)
¾ tsp (4 mL)                 salt, divided
¼ tsp (1 mL)                 ground black pepper
1 ⅓ cups (325 mL)       U.S. basmati rice
2 cups (500 mL)           no salt added chicken broth
½ tsp (2 mL)                 turmeric
½ cup (125 mL)            frozen baby peas
1                                       small carrot, grated
1                                       green onion, finely chopped (approx.)
1 tbsp (15 mL)              butter
Preheat oven to 425°F (220°C). Heat chutney in a microwave-safe bowl on high for 40 seconds or until melted. Stir in mustard, honey, lemon juice and curry paste.
Toss drumsticks with half of the sauce mixture, ¼ tsp (1 mL) salt and the pepper. Arrange drumsticks on a nonstick foil or parchment paper lined, rimmed baking sheet. Roast for 15 minutes. Baste with sauce. Roast, basting and turning often, for 10 to 15 additional minutes or until sauce is caramelized and chicken is cooked through.
Meanwhile, combine rice with broth, turmeric and remaining ½ tsp (2 mL) salt in a small saucepan with a tight fitting lid. Bring to a boil over medium-high heat. Cover and reduce heat to low. Cook for 12 minutes. Uncover and stir in peas, carrot, green onions and butter. Cook, covered, for an additional 3 minutes. Remove from heat; let stand for 5 minutes. Fluff rice with a fork.
Serve drumsticks with rice pilaf and sprinkle with extra green onions (if desired).
Makes 6 servings.
Tips:
Use U.S. brown basmati rice for additional fibre.
Replace drumsticks with chicken thighs if desired.
PER SERVING (2 drumsticks, skin removed, with about 3/4 cup/175 mL rice): 512 calories, 14 g fat, 5 g saturated fat, 131 mg cholesterol, 595 mg sodium, 55 g carbohydrates, 2 g fibre, 14 g sugars, 42 g protein. % RDI: 2% calcium, 20% iron, 15% vitamin A, 35% vitamin C.